Die Figurenwerkstatt
---
Biografie (deutsch)
In 1953 ist Dieter Homeyer in Mellendorf geboren. Seine Kindheit und Jugend verbrachte er mit figürlichen Arbeiten in Schlosser- und Zimmermannswerkstätten.
Er machte eine Ausbildung zum technischen Zeichner, Maschinenbautechniker und KFZ-Meister.
Im Anschluss an diese Ausbildungen studierte Homeyer Physik und Sozialwissenschaften. Nachdem er in den folgenden Jahren in seinen Ausbildungsberufen arbeitete, spezialisierte er sich zunächst auf Stuck- und Fassadenstuck in Hannover und Passau.
Seit 1995 ist Homeyer selbständiger Bildhauer mit Ateliers in der Lüneburger Heide, Italien und anderen Standorten in Deutschland. Er arbeitet hier an figürlichen Arbeiten aus Mamor, Kalkstein und Bronze.
Im gleichen Jahr ist er Teilnehmer des Steinbildhauersymposiums der Sommerakademie Salzburg. Zwei Jahre später nimmt er teil am Symposiums des Campo del Altissimo, Pietrasanta.
Während dieser Zeit begann Homeyer auch als Dozent und Kursleiter für Bildhauerei in verschiedensten Einrichtungen zu arbeiten.
Biography (english)
Dieter Homeyer was born in Mellendorf in 1953. His childhood and youth was spent working on figurative work in carpenters- and locksmiths workshops.
He trained as a draftsman, mechanical engineer and motor vehicle master. Following this training, Homeyer studied physics and social sciences. After working in his apprenticeships in the following years, he first specialized in stucco and facade stucco in Hanover and Passau.
Homeyer has been a freelance sculptor with studios in Lüneburg Heath, Italy and other locations in Germany since 1995. Here he works on figurative works made of marble, limestone and bronze.
In the same year he is a participant in the stone carving symposium of the Salzburg Summer Academy. Two years later he takes part in the symposium of the Campo del Altissimo, Pietrasanta. During this time Homeyer began to work as a lecturer and course leader for sculpture in various institutions.
---
Kursergebnisse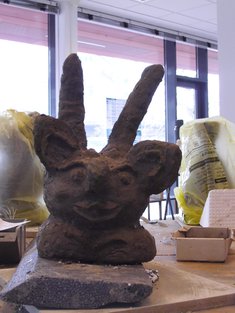 .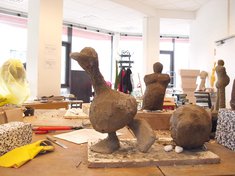 .