Biografie (deutsch)
Edith Kosiek-vorm Walde wurde 1941 in Aachen geboren. Nach dem Besuch eines musischen Gymnasiums, folgte eine Ausbildung im Tischlerhandwerk in Detmold. Anschließend absolvierte Edith Kosiek-vorm Walde ein Studium der Innenarchitektur.
Schon seit 1972 ist sie eine Kursleiterin im workshop hannover e.V., 14 Jahre später dann auch an der Leine-Volkshochschule und letztlich im Jahr 1990 an der Volkshochschule Hannover.
Die Künstlerin nahm an unzähligen Ausstellungen teil und veröffentlichte einige Werke, unter anderem Mitgliederzeitschriften der Patchwork-Gilde. Im Jahr 1991 erhielt sie außerdem den Preis für "innovative design" auf dem Quiltfestival Harrogate in England.
Biografy (english) The textile artist Edith Kosiek-vorm Walde was born in Aachen in 1941. After attending a musical grammar school, an apprenticeship in carpentry followed in Detmold. Edith Kosiek-vorm Walde then completed a degree in interior design. She has been a course instructor in the workshop hannover e.V. since 1972, 14 years later at the Leine Adult Education Center and finally in 1990 at the Adult Education Center Hanover. The artist participated in countless exhibitions and published some of her works, including member magazines of the Patchwork Guild. In 1991 she also received the prize for "innovative design" at the Harrogate Quilt Festival in England.
---
Eigene Arbeit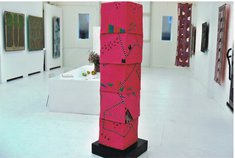 Alle Kurse von Edith