Die eigene Website
---
Biografie (deutsch)
Eduardos Kompositionen wurden seit 1955 in vielzähligen Konzerten in Europa, Lateinamerika und den USA aufgeführt. Mit seinem Fokus auf Musik, moderner Technologie und bewegter bildender Kunst hat er sich nicht nur einen Ruf als experimentellen Künstler geschaffen, er ist außerdem bekannt als künstlerischer Leiter der GERMAT (Group for Experimental Music and Media Art). Darüber hinaus ist er Gründer des Festivals Visionen in Hannover. Davor hat er das künstlerische Management von verschiedenen Festivals für zeitgenössische Musik und Kunst, im Auftrag des Instituto Cervantes übernommen.
Nach seinem Studium der instrumentalen und elektronischen Komposition an der Folkwang University of Arts und dem Institut für Computer und elektronische Medien, hielt er diverse Seminare und Vorträge von 2001–2004. Er war Gastdozent für Komposition, sowie für elektroakustische und instrumentale zeitgenössische Musiktechnologien im Konservatorium der staatlichen Universität von Dokuz Eylül in Izmir (Türkei). Als Freiberufler war er bei dem Projekt Master Audio-Design im Konservatorium der Ege Universität.
Eduardo lebt seit 2004 in Hannover. Seitdem hat er in 2007 ein Stipendium des Bundeslandes Niedersachen erhalten und 2010 war er "Artist-in-Residence" in den Worpswede Ateliers.
Biography (english)
Since 1995 Eduardo´s creations have been performed in numerous concerts in Europe, Latin America and the USA. With his main focus on music and modern technologies as well as moved visual arts he gained a reputation not only as an experimental media artist, but has also become well known as an artistic leader of GEMART (Group for Experimental Music and Media Art). Furthermore, he is known as the founder of the festival Visionen in Hanover, after taking on the artistic management of different festivals for contemporary music and art on behalf of the Instituto Cervantes.
After his studies of instrumental and electronic composition at the Folkwang University of Arts and the Institute of Computer and Electronic Media, he held various seminars from 2001–2004. He also worked as a guest lecturer for composition, as well as electroacoustic and instrumental contemporary music technologies in the conservatory of the State University of Dokuz Eylül in Izmir (Turkey) and as a freelancer with the project Master audio-design in the conservatory of the Ege University.
Since 2004 the artist has been living in Hanover and has since then received a grant of the state of Lower Saxony in Germany in 2007 and 2010 and was "artist-in-residence" in the Worpswede Ateliers.
---
The Dancing child – Polaroids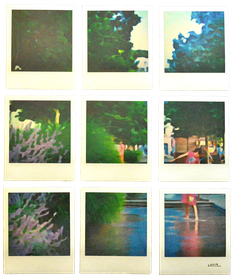 Frame – el en interior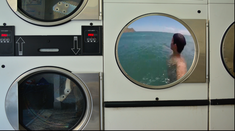 untitled