Deutsch Afghanische Initiative
---
Biografie (deutsch)
Pascale Goldenberg ist eine 1960 in Paris geborene Textilkünstlerin.
Sie studierte Geologie in Grenoble und schloss mit dem Diplom "Alpine Geologie" ihr Studium ab.
Mit ihrer Familie lebt sie seit 1983 in Freiburg und begann 1989 als freischaffende Künstlerin und Leiterin von Textil-Workshops in der Erwachsenenbildung zu arbeiten.
Goldenberg ist Autorin zahlreicher Artikel in der deutschen und französischen Textil-Fachpresse.
Seit 1996 Einzelausstellungen in Deutschland und Frankreich. Darüber hinaus nahm sie an Ausstellungen in Europa, den USA und Japan teil sowie an vielzähligen Wettbewerben.
Die Künstlerin wurde im Jahr 2000 in den Bundesverband Bildende Künstler (BBK Südbaden) aufgenommen und ist seit 2005 die künstlerische Beraterin eines Sozial- und Kunstprojektes in Afghanistan (DAI e.V. Freiburg).
Biography (english)
Pascale Goldenberg is a textile artist who was born in Paris in 1960.
She studied geology in Grenoble, France and graduated with a diploma in "Alpine Geology".
She lived with her family in Freiburg since 1983 and began working as a freelance artist and freelance director of textile design workshops in adult education in 1989.
Goldenberg is the author of numerous articles in the German and French specialist textile press.
Since 1996 she has held several solo exhibitions in Germany and France. In addition, she took part in exhibitions in Europe, the USA and Japan, as well as in numerous competitions. The artist was accepted into the Federal Association of Visual Artists (BBK Südbaden) in 2000, and since 2005 she is the artistic advisor for a social and art project in Afghanistan (DAI e.V. Freiburg).
Afghanistan is watching you (detail)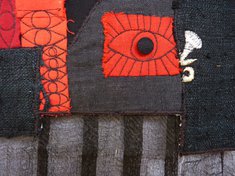 Afghanistan is watching you